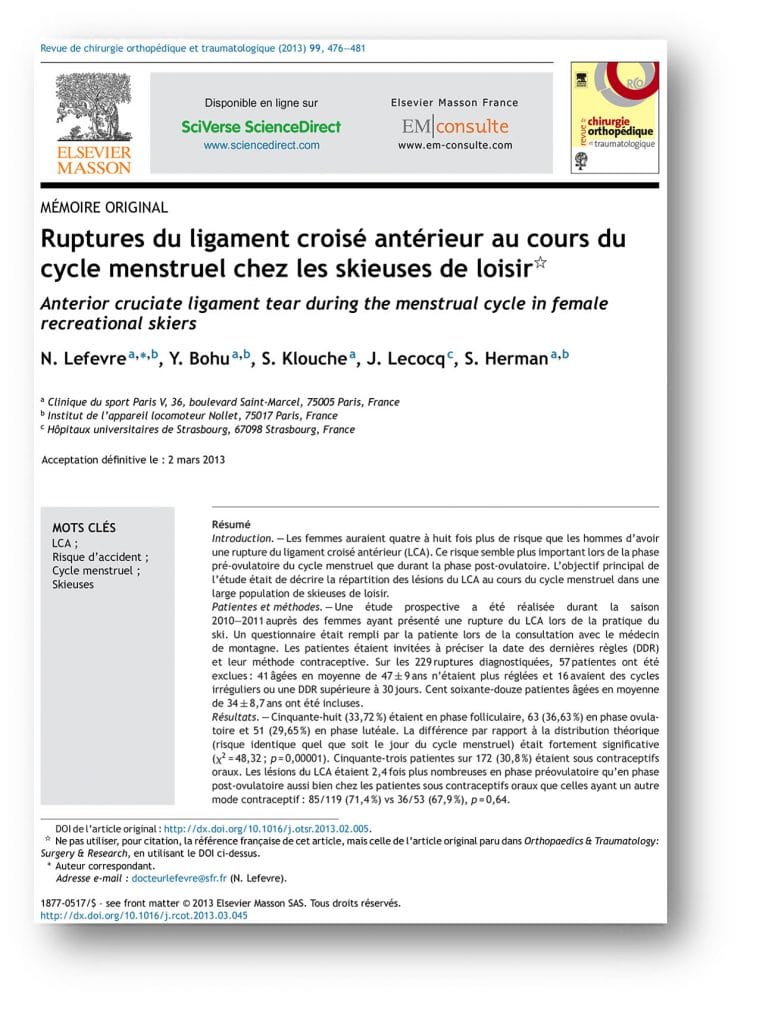 Ruptures of the anterior cruciate ligament during the menstrual cycle among recreational skiers
summary
Introduction
Women have four to eight times more likely than men to have a ruptured anterior cruciate ligament (ACL). This risk seems more important during the pre-ovulatory phase of the menstrual cycle than during the post-ovulatory phase. The main objective of the study was to describe the distribution of ACL injuries during the menstrual cycle in a large recreational skiers population.
Patients and methods
A prospective study was performed during the season 2010-2011auprès women who submitted a torn ACL during skiing. A questionnaire was filled out by the patient during the consultation with the doctor mountain. Patients were asked to indicate the date of last menstrual period (DDR) and their method of contraception. Of the diagnosed 229ruptures, 57patientes were excluded: 41âgées averaged 47 ± 9 years were not settled and 16avaient irregular cycles or above DDR to 30 days. One hundred seventy two patients aged on average 34± 8.7 years were included.
Results
Fifty-eight (33.72%) were follicular phase, 63 (36.63%) in phase ovulation tory and 51 (29.65%) in luteal phase. The difference compared to the theoretical distribution (same risk regardless of the day of the menstrual cycle) was highly significant (2 = 48.32 ????; p = 0.00001). Fifty-three patients out of 172 (30.8%) were taking oral contraceptives. ACL injuries were 2.4 times more numerous in pre-ovulatory phase and in post-ovulatory phase as well as in patients on oral contraceptives than those with another contraceptive method: 85/119 (71.4%) vs 36/53 (67.9%),p = 0.64.

Doctor Nicolas LEFEVRE, Doctor Yoann BOHU, Doctor Shahnaz KLOUCHE , Doctor Serge HERMAN. – 29 mars 2014.