Clinical case
Patient, 58, sporting good level with chronic tendinitis of the Achilles tendon of the left.
Chronic Pain the Achilles tendon evolving for more than a year after a triathlon.
The patient has received medical treatment (necessary before any surgical decision): rehabilitation, Stanish stretching, shock wave, orthopedic soles.
Given the persistence of pain and failure of medical treatment the patient has an MRI which showed a corporeal tendinopathy extended with even cracking a central area of the tendon well explaining the painful symptoms.
Clinical examination shows a thickened tendon to 5 cm from the calcaneal insertion with painful swelling zone: chronic tendinopathy area corporeal.
The indication for surgical treatment therefore proposed with surgical combing of the tendon.
The postoperative need 12 hours hospitalization (outpatient) and immobilisation in a boot for a month resin with partial support.
A work stoppage was needed between 1 and 2 months depending on the profession.
In the postoperative there must be at least 4 to 6 months of therapy.
A replay of the race is possible after 6th months (average 8 months)
The 6th   months postoperatively the patient had no sequel, no pain, and he had already resumed his regular sports activities   Jogging 1:15   2 to 3 times per week without difficulty,he had scheduled a resumption of competition 12 months.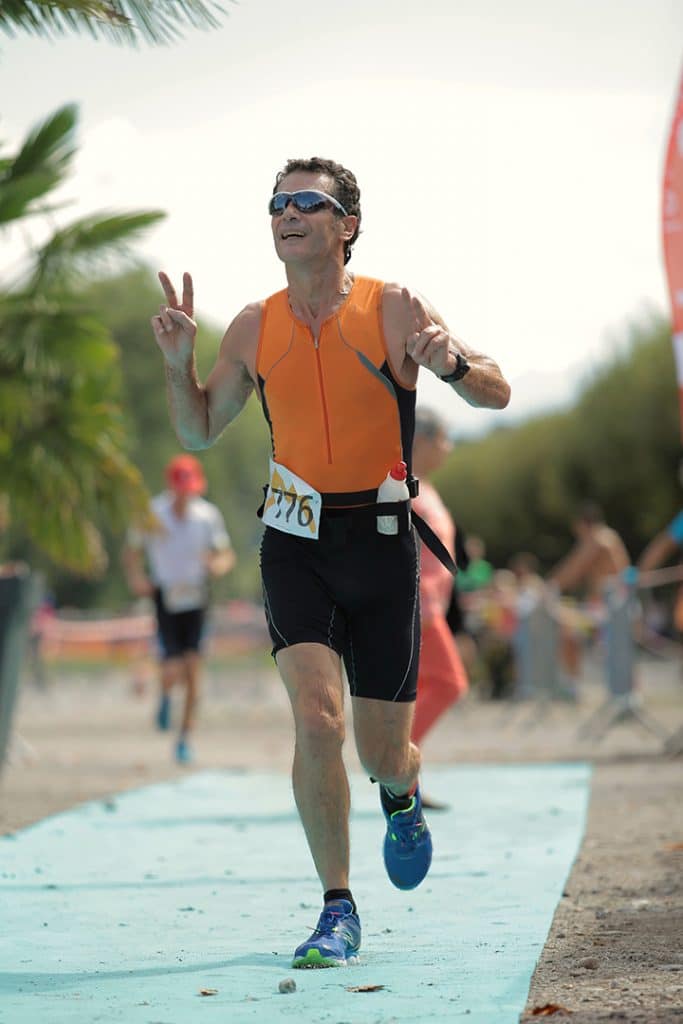 Patient Message   after his first competition.  
Hello,
One year after the removal of my cast after your intervention to combing my Achilles tendon …
I just participated in the triathlon of Aix-les-Bains with happiness and pain !!
I wanted to thank you again …
Doctor Nicolas LEFEVRE, Doctor Yoann BOHU, Doctor Antoine GEROMETTA, Doctor Serge HERMAN. – 27 septembre 2015.