Introduction: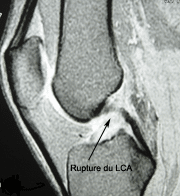 The diagnosis of a torn anterior cruciate ligament is clinical. (Fig 1)

MRI of the knee may be requested to confirm the diagnosis, to take stock of associated lesions (meniscal lesions, lateral planes) and to assess the severity of lesions.
Clinical diagnosis:
The diagnosis of a torn anterior cruciate ligament (ACL) based on:
The circumstances of the trauma:
Sports Accident (skiing, football, rugby ….)
Mechanism of the accident (torsion, drop, shock, giving way …)
Perception of a crunch
Immediate Functional Impotence or not
Hematoma or knee effusion
The sign of subjective search ACL:
Knee instability sensation
Dérobement knee
The objective evidence of research ACL:
 Sign of positive Lachman
Positive anterior drawer
Rotary jump or jerk positive test
MRI diagnosis:
The normal ACL appears on MRI as a band of hypointense signal, stretched between the femur and the tibia. Its limits are clear.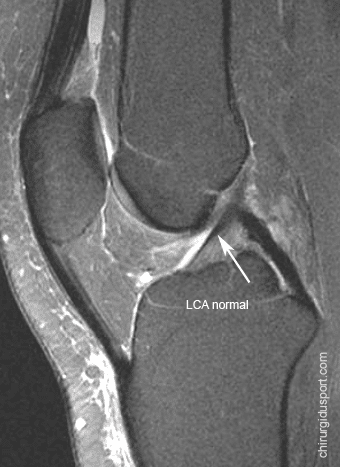 Inserts:
Top (femur), the most posterior part of the medial aspect of the lateral condyle
The bottom (tibia) on the pre-spinal surface of the tibia
Consisting of 2 beams
Anteromedial and posterolateral bundle
The diagnosis of ACL tear MRI is based on direct and indirect signs
Morphological:
No visualization LCAE
Visualization of the rupture zone
Signal:
Ligament hyperintense on T2 sequences
Orientation:
Aspect of relaxed LCAE
Horizontalization LCAE
The indirect signs are:
Bone contusions (bruising of the outer compartment front part of the lateral condyle and the posterior portion of the lateral tibial tray)
Anterior subluxation of the tibia external> 7mm
Verticalisation or deformation of the LCP
Conclusion:
MRI is an efficient examination for the diagnosis of rupture LCAE but the diagnosis must be mainly clinical.
MRI allows the assessment of associated injuries
Injuries and Meniscal disinsertions
Attacks collateral Plans
Bone and osteochondral fractures
Doctor Nicolas LEFEVRE, Doctor Serge HERMAN, Doctor Yves GUGLIELMETTI. – 24 juin 2010.