Introduction

Arthroscopic knee surgery is the gold standard of meniscal lesions of the knee. The goal is to treat meniscal tear (tear, crack, tongue, bucket handle …) being the least traumatic possible for the knee and the most conservative to the meniscus
Indeed three options are available depending on the type of meniscal tear:
Conservative treatment with no treatment.
Conservative treatment and suture meniscal repair.
Remove the lesion by partial meniscectomy
Your stay at the clinic
short hospital: Either on the same day:
"ambulatory" surgery or "day hospital"
Ie 2 days of hospitalization (if home-clinic distance> 1 hour)
At block:
regional anesthesia most often but also general anesthesia of short duration
Arthroscopy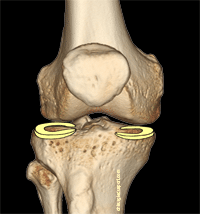 Two small incisions of 5 mm either side of the ball joint enable switch the camera and instruments to perform arthroscopy.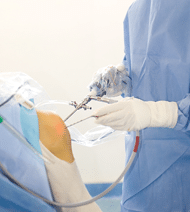 The first operative step is the exploration of the knee:
It enables a comprehensive assessment of the lesions of the knee (meniscus, cartilage, ligaments ..)
Four areas are seen:
The internal compartment (medial meniscus cartilage)
The notch (anterior cruciate ligament, posterior cruciate ligament)
The outer compartment (lateral meniscus, cartilage, knee tendon)
Patellofemoral compartment (patella cartilage trochlea)
The second operation is the treatment of meniscus:
After analysis of the meniscus of the regularization lesion will be performed
This adjustment is done using small instruments (scissors, pliers ..).
Section of a tongue
Removal of a bucket handle
Regularization of a complex lesion

The third stage is the washing and knee closure
The operation takes place with a continuous washing saline. The closure is performed by absorbable sutures
or of simple dressing "Steri Stripp".
 
Exit:
The output is possible on the evening of the intervention (necessarily accompanied by a person)
After consulting the surgeon and / or anesthetist. 
What to do when you leave:
 Follow the treatment given to you by your surgeon output (analgesics, anti-inflammatory, anti-coagulant injections etc …)
Icing your knee 3-4 times a day
No rehabilitation, exceptions
By contrast, rehabilitation auto with walking, immediate full support (unless otherwise advised by the surgeon), flexion and knee extension permitted without restriction, they are guided by the gene and pain (except meniscal suturing)
No sport for a month, with exceptions
Bathing is prohibited until complete healing (15 days), showers
Doctor Nicolas LEFEVRE, Doctor Serge HERMAN, Doctor Yoann BOHU. – 26 octobre 2013.