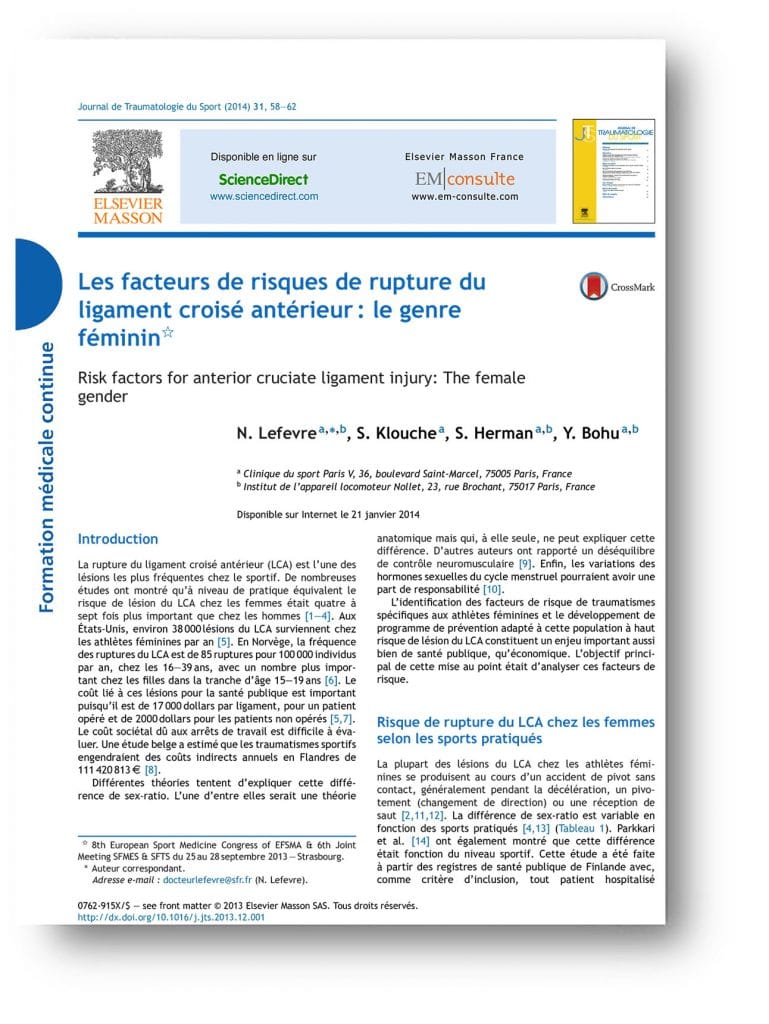 Failure risk factors ACL: female gender
The rupture of the anterior cruciate ligament (ACL) is one of the most common injuries in athletes. Many studies have shown that equivalent practical level the risk of ACL injury in women was four to seven times higher than in men [1-4]. In the US, approximately 38,000 ACL injuries in female athletes occur annually[5]. In Norway, the incidence of ACL tears is 85 failures per 100 000 individuals per year, among 16-39ans, with a more important number for both girls in the age group 15-19 years. [6] The cost of the damage to public health is important because it is 17 000 per ligament for a surgery patient and $ 2,000 for non-surgical patients [5,7]. The societal cost due to work stoppages is difficult to evaluate. A Belgian study found that the sports trauma engendered annual indirect costs in Flanders 111420813D [8]. Different theories try to explain this difference in sex ratio. One of them would be an anatomical theory but that alone can not explain the difference. Other authors reported a neuromuscular control imbalance. [9] Finally, changes in sex hormones of the menstrual cycle may have some responsibility[10].

Doctor Nicolas LEFEVRE, Doctor Shahnaz KLOUCHE , Doctor Serge HERMAN, Doctor Yoann BOHU. – 27 juin 2014.